Alarm v2
Hi i want to introduce You a new more complex and functional Security system.

To start You need ESP 8266 Chip, optional some Sensors Like PIR HC-SR501, Contact MC-38/RC-36,  Occupacy HW-MS03 and any other working on 3.3V output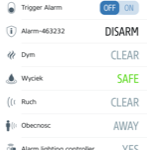 Easy management via web browser
You can change all settings using  friendly responsive browser interface
Sensor Management capability
Add as many sensor as You need. Including motion, contact, smkoe, leak and occupacy sensor type.
Adjusting system settings

Change settings and adapt to your needs including disarm and exit delays. Auto arming time and more.
Now You can integrat Security System  with other homekit sensors  and accessories which you already have. You must be able to use automations.
You can for example turn on and off lights or change colours to red/white every X secouns.
You can set the individual behavior of the sensor like show in Home app, type, gpio, or not to trigger alarm.
To start:
1) Download and burn my firmware
2) Connect Wifi
3) After successful joining wifi network go to IP address using You web browser (check your DHCP router) to adjust settings and run Homekit Server.
4) Now pair Alarm in Your home App.
Homekit don't like to change sensors in accessorie!
So it's better to remove alarm first to add or remove sensors.
Becouse of memory limitation system does not validate the configuration!!!

Large number of sensors can cause errors. I tested on max eight sensors.


For GPIO use numbers like 12,13,15 etc. so check first Your board pinout.

Don't use Specjal or white Characters in Sensor name.
You can change name latter in home App. So try to use short and simple one.

When You run webPanel device will not response in Homekit.



 You can always enable webPanel in EVE App. System will reboot and goto setup mode homekit server will be stop. After 10 min inactivity system will back to Homekit (You can do it faster in webPanel)
 To intagreate with other accessories use "Trigger Alarm" Switch. If You set up automation to turn ON this switch  based on some events System will trigger Alarm if was armed previously.
 To manage lights during an alarm use "Light control sensor". Set automation to turn light On and color red on sensor trigger and Off/White when sensor clear. Sensor will change his state every X secound until the system is disarmed.
Enjoy and let me know how it works in comments.