Alarm v2 Update 1
I'm glad to introduce you next update for my Security firmware.
Now it can be used not only as a Security System but You can use it as Smart HK sensors.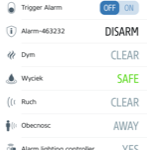 Now You can set GPIO as outputs and make them interact with system events.
Decide how this firmware  will work in yours HK ecosystem. You can use it as a Sensors or whole security solution with many unique functionalities
You can set many individual features which cannot be defined  in normal sensors.
For example trigger delay, triger active time, time extends and others.
Define as amy outputs and actions on them as You need, 
You can add LED to indicate system status, integrade it with others systems or add relay for siren or lights.
To start:
1) Download and burn my firmware
2) Connect Wifi
3) After successful joining wifi network go to IP address using You web browser (check your DHCP router) to adjust settings and run Homekit Server.
4) Now pair Alarm in Your home App.
Homekit don't like to change sensors in accessorie!
So it's better to remove alarm first to add or remove sensors.
Example: You can setup two contact sensors for just one Input for main doors.
One for light: trigger when doors open, and active time 300s (extended on each triggers). And secound to detect Door close with delay trigger 120s.
So when doors open light's will come on contact open. And another start's counting. If door will not be closed at a time below the set value, secound sensors will trigger and turn light up red. If you close the door before delay trigger expiry, sensor will stay clear.
You can set output signal shape: Constant, Intermittent or Single 
Outputs can be triggered on System change state or sensors triggers.
 You don't have to get angry when you set delayed switching off You light. Now You can set time for it in a sensors.
You can set up blinking LED diode  for arming system, green permanently for sistem disarmed and red for armed
I know that not all settings will be clear so write in the comments what can be explained better.